Frequently Asked Questions
Q: HOW WILL THE EQUADOSE PILL CUTTER SAVE ME MONEY?
A: Pharmaceutical companies aim to keep consumers monthly prescriptions for a given medication equal. This price equalization is independent of dosage. As a result consumers can save a considerable amount by buying twice their dose, and splitting their pills with the Equadose Pill Splitter.
Q: CAN MY DOCTOR WRITE A DOUBLE PRESCRIPTION TO BE CUT?
A: Yes, this is quite commonly done. In fact, there are insurance companies that give you discounted premiums if you split your medications.
Q: HOW IS THE EQUADOSE PILL SPLITER UNIQUE?
A: The Equadose pill cutter has a patented system that allows you to score each pill prior to splitting. The blades are angled in such a way that they will never dull. No more pill crushing. In addition, unlike traditional single-blade pill cutters, the blades come in from both sides. This allows you to line up the cutting blades with the center of your tablet, and split your pill with greater precision. When not in use as a pill splitter, it acts as a pill box with two compartments for pill storage and organization. As a pill case the swivel lid keeps medication safe in your pocket, but is easy to open for use. Equadose is crafted out of sturdy aerospace grade aluminum. We offer a lifetime guarantee on every pill cutter cutter. Who else can say that!
Q: IS USING THE EQUADOSE PILL CUTTER SAFE?
A: While our pill cutter will never dull, its' blades are not sharp to the touch. To be safest simply close the acrylic cover prior to splitting. Some pills active ingredients break down with exposure to air. Therefore, it is wise that you use the tablet halves as soon as possible after splitting.
Q: ARE ALL TABLETS SAFE TO SPLIT WITH MY PILL SPLITTER?
A: Not all medications can be cut. Medications that are extended release, enteric-coated capsules, chemotherapy drugs, blood thinners, birth control pills, or anti-seizure medicines should generally not be split. Please consult your doctor or pharmacist if you are unsure about the safety of splitting your medications.
Q: DOES THE EQUADOSE PILL CUTTER COME WITH A GUARANTEE?
A: YES! There is a LIFETIME guarantee on our Equadose pill splitter and pill box for any defects or failures.
Q: HOW DO I CUT PILLS WITH THE EQUADOSE PILL CUTTER?
A: Watch the video below to see proper technique:
Q: How do you crush pills with the Pug pill grinder?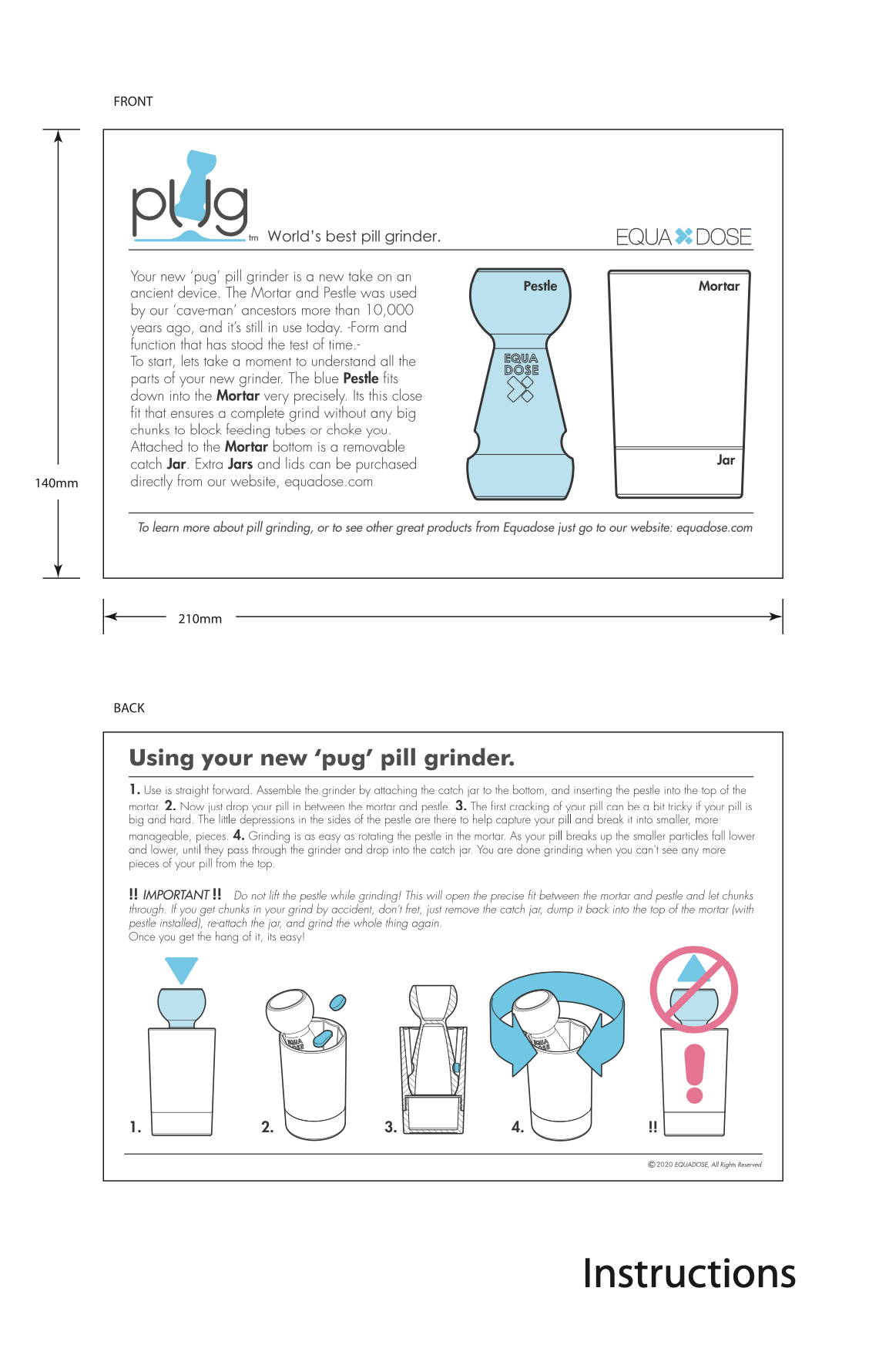 Q: Can it crush large tablets?
A: Yes, in fact there are specially designed grooves to accept large pills and 'crack' them and the beginning of the crushing process.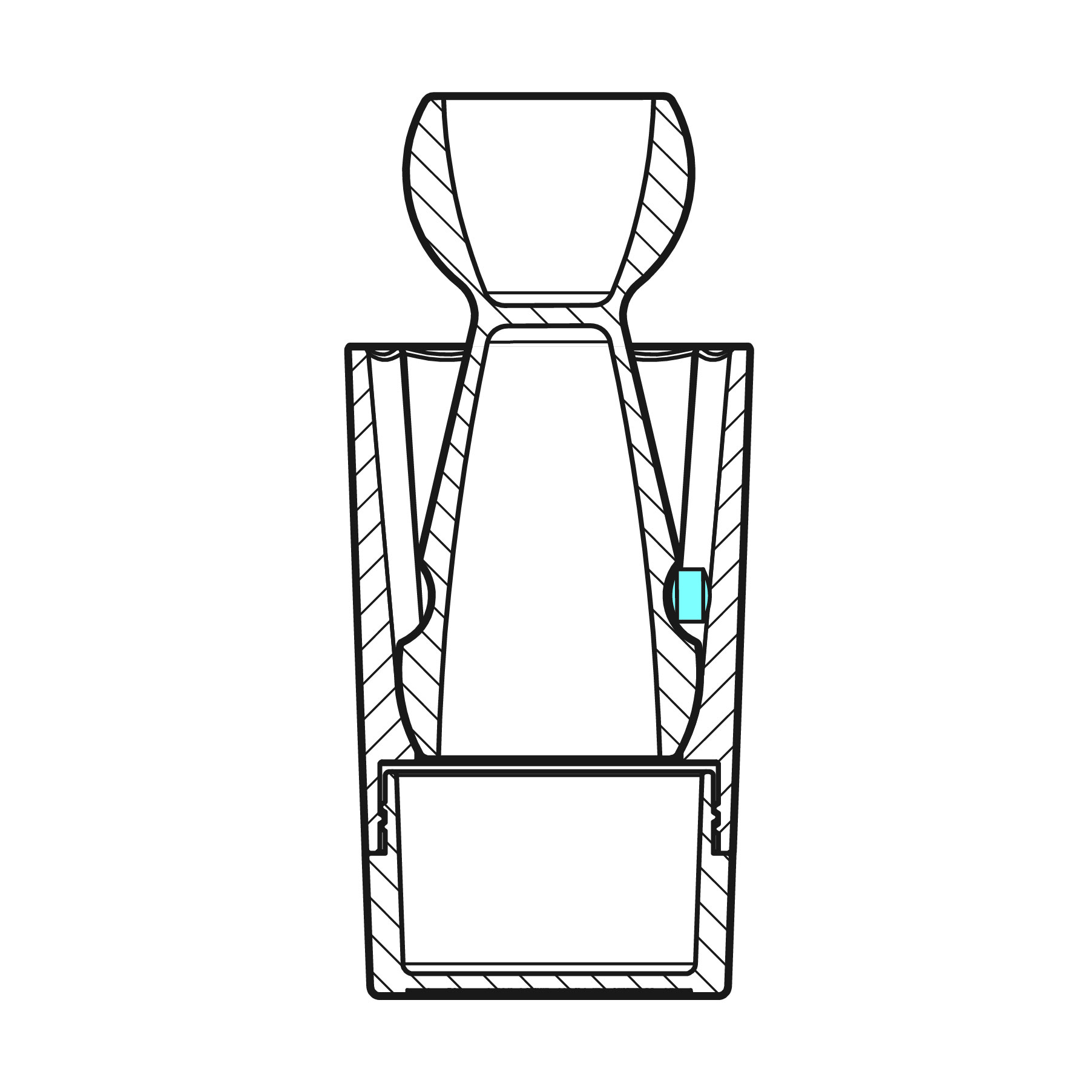 Q: How do you clean the Pug pill crusher?
A: Cleaning can be accomplished with warm water, a little dish soap and the cleaning brush provided. Make sure you let it dry thoroughly before using.
A: If you are dissatisfied with your Equadose product, you may return if for a refund within 90 days.
Q: HOW DO I USE THE HEAR SYSTEM?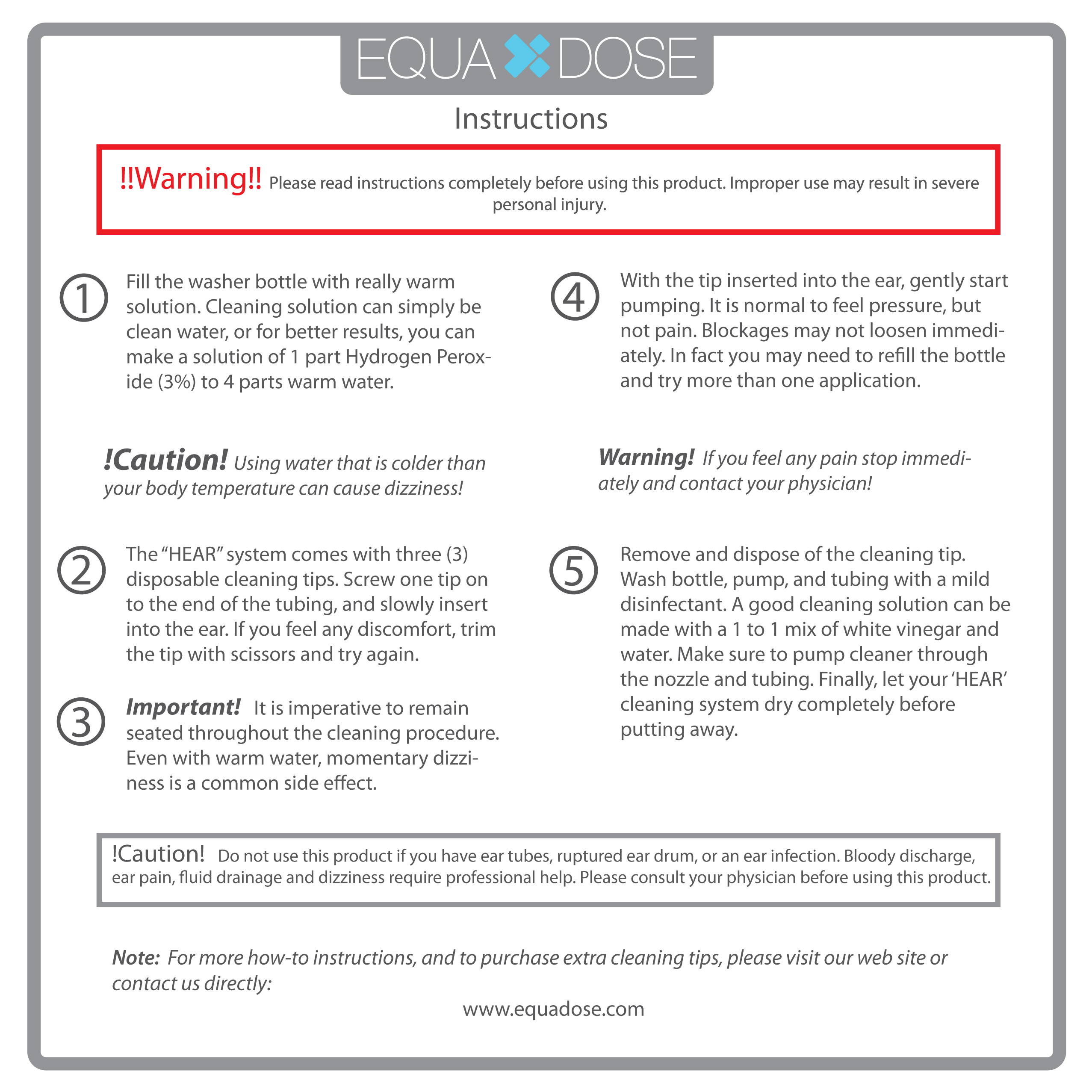 A: There is a 30 day satisfaction guarantee. Please return it within the first 30 days of purchase if you are unsatisfied, and we will give you a full refund.
Q: WHAT SHOULD I DO IF MY EAR CLEANER IS LEAKING?
A: If your ear cleaner is leaking, tighten the white sprayer nozzle nut all the way clockwise. Then back it off half a turn. If it is still leaking there is a defect in the hose. Please get in contact with us and we will send you a replacement ear washer right away.
Q: I CAN'T GET MY EAR CLEANER TO SQUIRT. WHAT SHOULD I DO?
A: Find the white nut on the sprayer nozzle. Turn it a half turn to one full turn counterclockwise. Then try the sprayer again. If it still doesn't work, please contact us and we will send you a replacement right away.
Q: WHERE CAN I BUY MORE DISPOSABLE TIPS?
Q: IS THERE AN INSTRUCTIONAL VIDEO?